By Ted Kalkwarf, Retired Pastor and CtK Member
Martin Luther led an incredible yet complicated life on his journey to take on the formidable foe of the Catholic church. In 1523, Luther accused the Catholics of being unfair to the Jews, thus making it difficult to convert them. He was quoted as saying, "deal gently with them; we must be guided by the law of Christian love, not by papal law." Unfortunately, this view of Luther's changed over time.
Fifteen years later, rumors of Jewish efforts to convert Christians so upset him, he vented that God had deserted them as a "chosen people." Luther proposed seven measures of "sharp mercy" that he recommended be taken against the Jews. Included were such things as "set fire to their synagogues or schools" and that Jewish houses should be "razed and destroyed."
These restrictions created a "ghetto-gated community." On the campus of Hebrew University in Jerusalem is a museum containing the history of these ghettos. Each diorama is similar: a walled community with secure gate and in the center, the sanctuary or synagogue. Each synagogue has a tunnel leading to a safe exit outside the city. All of the dioramas are connected by a continuous strand of barbed wire.
On the roof of the
St. Marien church in Wittenburg
is a derogatory stone carving portraying
Judensau
or Jews. This is a church where Martin Luther taught and preached.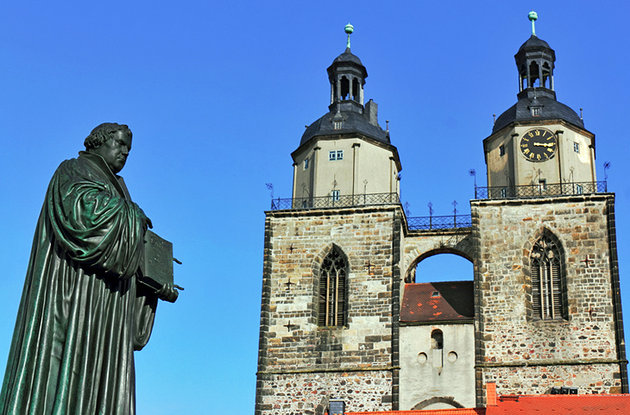 It is difficult to reconcile this troubling aspect of Luther's life with our knowledge of the many contributions that he made. However, efforts have been made for reconciliation. Since the establishment of the nation of Israel, Wittenberg has hosted retreats for youth from Germany and Israel. They have changed the landscape of St. Marien church by planting a "tree of life" on the grounds representing the modern day effort of peace-making between Christians and Jews.
What is a Moment of Reformation?
Our most concentrated time of observing the 500th Anniversary of the Reformation will take place this fall. In the meantime, we're offering these brief "Moments of Reformation" offered by pastors, lay staff and members of CtK. We'll offer reflections on a number of topics related to the Reformation, balancing a helpful look back over the past half-millennium with a forward-looking, outward directed commemoration, focused on the amazing grace and everlasting mercy of God in Jesus Christ.
Sign up for a Reformation small group
Delve into what it means to be Lutheran this October in a Reformation small group.
Let us know if you're interested
.