The weekend of January 18th 26 8th graders and adults, myself included, ventured outside of suburban life. We left behind Applebee's and Target and headed towards Minneapolis and the Phillips Neighborhood. Our mission was to learn about poverty, to serve those for whom it is a reality, and to dream together of ways that we could combat poverty in our community.
Urban Immersion, an organization that helps bring church groups, social groups, and non-profits closer to the face of poverty, hosted our weekend. Friday night was spent learning about issues of poverty locally and globally.
•Did you know in Minneapolis 27.6% of people live below the poverty level? The level is just over $22,000 for a family of four.
•On any given night, an estimated 2,500 Minnesota youth experience homelessness. Researchers claim that to be a conservative number.
Saturday our team broke into different groups to work with and alongside of organizations that support and advocate for those who are in poverty. The timing was perfect as it was declared a National Day of Service!
One group volunteered at Second Harvest Heartland and helped divide 1,500 pounds of rice into portions that will be distributed through area food shelves.
We were then off to Arc, a Goodwill-type organization, to sort and organize clothes. Another group stopped by the Animal Humane Society to share love with some animals. After, we went to a senior-assisted living for low-income individuals to visit and play Bingo. Another group headed to Redeemer Lutheran's housing project in North Minneapolis. They spent their time framing and working on plumbing.


Saturday night we gathered at House of Charity, a soup kitchen, to eat and hear life stories of people who are recently off the streets. Our youth were incredible guests of these people and listened intently in their conversations.
The rest of our weekend was spent brainstorming ways we could remember this experience and continue to follow in Jesus' words:
"For I was hungry, and you fed me. I was thirsty, and you gave me a drink. I was a stranger, and you invited me into your home. I was naked, and you gave me clothing. I was sick, and you cared for me. I was in prison, and you visited me.' Then these righteous ones will reply, 'Lord, when did we ever see you hungry and feed you? And the King will tell them, 'I assure you, when you did it to one of the least of these my brothers and sisters, you were doing it to me!'"
Matthew 25:31-40 (NLT).
It was an incredible weekend for all of us. Not only did we learn an incredible amount but we served generously and boldly. The words "this is the best weekend of my life" were proof.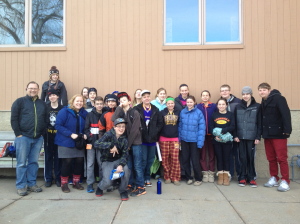 My prayer is that every person could experience something like this and that the experience would not just be a one-time event but would shape our lives as we follow Jesus. May God continue to strengthen our young people in faith and in service as we continue to love God and love others. And may God bring comfort, relief, and hope to those who find today without food, shelter, and day-to-day care.
With Joy,
P.S. Check out more pictures from our weekend
here.